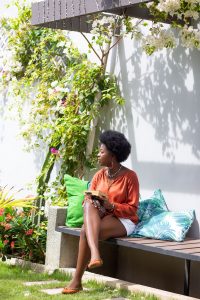 Even as a young child, I was a voracious reader.  Stories enthralled me.  By the age of seven, my dream was to create stories that would captivate young people just the same way the books I had read did.
I enjoyed my formal education, and in secondary school, English Literature was a natural favorite for me.  To the surprise of at least a couple of my teachers, however, I veered away from Literature and instead studied Biochemistry with Chemistry at the University of Ghana,  and then went on to earn an MSc in Clinical Biochemistry with Molecular Biology at the University of Surrey, UK.
The writer in me didn't get pickled in the chemistry lab, though, and my first book for children, A Saint in Brown Sandals, was written after I had begun working as the laboratory director of the medical laboratory I'd founded.
A Saint in Brown Sandals is an 11-year old girl's realistic diary account of her struggle to be herself. Happily, it went on to win The Macmillan Writers Prize for Africa in 2006.
In 2010, my second novel, The Twelfth Heart, was published. This poignant teenage story of friendship in boarding school went on to become a hit among readers. It won the Burt Award for Young African Literature in 2010 and was later a finalist for the BAYAAL All-Stars Award in 2017.
Its sequel, The Dorm Challenge, received enthusiastic reviews and also won the Burt Award in 2012. In 2016, Rattling in the Closet was similarly successful with readers and received the same award that year.
My latest YA novel, The Lion's Whisper was a finalist for the Burt Award for  African Young Adult Literature in 2018.
An Angel in Mucky Shorts was released in 2018. A sequel to A Saint in Brown Sandals, this diary account of its 11-year old main character, has been well-received by readers.
In 2019 I was thrilled to be signed up by the dynamic Sarah Odedina with her agency Accord Literary. Crossing the Stream, (reader age 9 – 12yrs) released in the USA in 2021 is my first book since then. The scene is now set for many more books which I hope will delight readers across continents.
The blurbs of all the above books can be found in the Books section.
Writing is very much a part of who I am. To me, it is as natural as breathing, eating chocolate, exercising, and having long phone conversations with my sisters.
I love spending time with young people; it excites me to see a young person discover and realize their potential. I'll seize every opportunity I get to encourage a young person to believe enough in themselves to make their dreams come true.
Elizabeth-Irene Baitie is an incredible story-teller. Her plot is riveting; her characters are real and three-dimensional; her dialogue is witty and her writing is skillful, effective and absorbing. – James Ebo Whyte (Playwright, Publisher & Millennium Excellence Laureate for Literature)